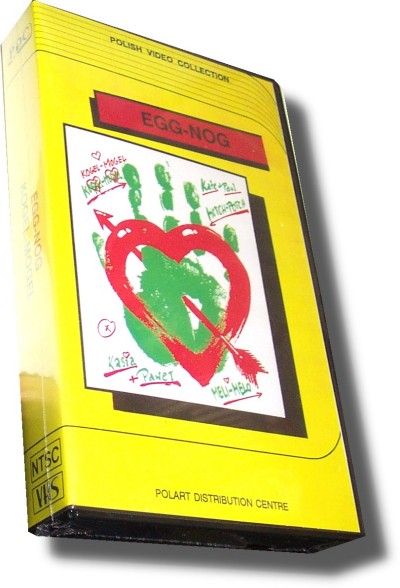 Egg-Nog (Kogel Mogel)
Buy now for

$39.95


We ship worldwide. Bulk and academic discounts available -- contact us for pricing.


Ships within 3 business days.




Kate dreams of a bright career. She wants to study in town but her father, who owns a large farm, has old-fashioned ideas about a woman's place and tries to arrange a marriage for Kate with successful businessman. Instead, she runs away on her wedding day and begins to face the challenges of life in a big and unfriendly city. Will she go to college, return home, or fall in love? Can one escape from one's destiny? Polish with English subtitles.

Kasia, jedynaczka rolniczego malzenstwa Solskich, pragnie studiowac pedagogike. Rodzice natomiast sa przekonani, ze malzenstwo z bogatym sasiadem zapewni jej szczescie. Wyznaczono juz date slubu. Kasia otrzymuje zawiadomienie o przyjeciu na studia i w dniu wesela opuszcza wioske. Podejmuje prace jako opiekunka do dziecka u docenta Wolanskiego. Czteroletni Piotrus, terroryzujacy rodzicow i otoczenie, jest wrecz zakochany w dziewczynie. Kasia utrzymuje idealny porzadek w domu: docent jest zachwycony, jego zona zazdrosna. Nie moze jednak wymowic Kasi, bo Piotrus wyzej ceni obecnosc opiekunki niz rodzicow. W kawiarni zwraca na nia uwage przystojny absolwent SGGW Pawel. Dzieki zostawionej przez Kasie torebce chlopak trafia do domu Wolanskich. Odwiedziny przerywa wczesniejszy powrot gospodarzy, pani domu uwaza zaistniala sytuacje za dwuznaczna i zwalnia Kasie. Teraz opieke nad dziewczyna przejmuje Pawel, ktory jej wyraznie imponuje: po pobycie w Holandii buduje wlasny dom. Kiedy jada na weekend do Pawla, ku zaskoczeniu Kasi czekaja juz tam rodzice obojga mlodych. Pawel oswiadcza sie i Kasia wraca na wies jako zona zamoznego gospodarza. Komedia obyczajowa nieco ironicznie traktujaca dazenia do awansu spolecznego mlodziezy wiejskiej.

Rezyseria/Director: Roman Zaluski ; Scenarius/Screenplay: Ilona Lepkowska , Roman Zaluski ; Zdjecia/Photography: Jacek Mieroslawski ; Muzyka/Music: Seweryn Krajewski ; Scenografia/Scenography: Piotr Tanski , Barbara Komosinska ;

Obsada/Cast: Grazyna Blecka-Kolska (Kasia), Ewa Kasprzyk (Wolanska), Zdzislaw Wardejn (Wolanski), Malgorzata Lorentowicz (babcia), Katarzyna Laniewska , Jerzy Turek (rodzice Kasi), Dariusz Siatkowski (Pawel), Jerzy Rogalski (Kolasa), Maciek Koterski (Piotrus), Leonard Andrzejewski , Halina Bednarz , Jozef Kalita , Ewa Kania , Krystyna Kolodziejczyk . Produkcja/Produced by: Zbigniew Grabowski , Zespol " Oko ", Rok produkcji/Produced in 1988 ; Barwny/Color, 103 mins. Premiera/Premiere: 15 VII 1988 , Warszawa.