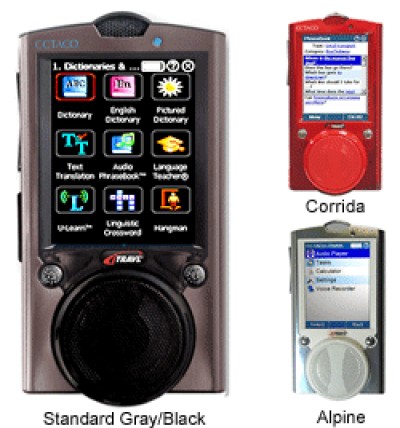 Ectaco iTravl NTL-2AI English <-> Albanian Talking 2-way Language Communicator and Electronic Dictio
Buy now for

$375.00

(regularly $399.95)

We ship worldwide. Bulk and academic discounts available -- contact us for pricing.


Ships within 3 business days.




Language pair: English <-> English, English <-> Albanian, Albanian <-> English Speech: English for the Dictionary; English and Albanian for the PhraseBook

After the outstanding success of the 1st generation iTRAVL and all the positive feedback the Ectaco team received, we decided to expand on our achievements to make the hottest and most versatile 2nd generation iTRAVL.

Not only is it absolutely unique in the world of handheld language and travel assistants, the iTRAVL includes everything the business or leisure traveler needs to make visiting foreign destinations an enjoyable and easily navigated experience.

The world's most sophisticated Speech Recognition System that understands and instantly translates any of the tens of thousands of pre-programmed words and phrases contained in the iTRAVL
High-res touch screen allows for fast point and click maneuvers
Unsurpassed Travel Voice PhraseBook translates and speaks 14,000 phrases using real human voices
iHELP delivers instant access to emergency and frequently used phrases which can be spoken immediately
A pre-recorded English word list provides access to the dictionary's spoken English entries. Just say the word and the iTRAVL will find it.
Amazing Language Teacher to help you learn a foreign language in the time it takes to fly to your destination.
Talking 39 Language Picture Dictionary with real human voice pronunciation for all words
Reliable and accurate 2-way Full-text Machine Translation with voice output, Type anything in and the iTRAVL will translate it all for you.
Exhaustive Translating Dictionary that pronounces English and Albanian words using real human voice
Customizable English interface. If you're a native English speaker learning Albanian you have quick access to all the menus in English.
Hands free voice navigation through menus allows easy access to information
Responsive virtual keyboard for each of the included languages
Extended functionality and responsiveness powered by Windows CE
Outstanding Audio and MP3 Player allows you to listen to all your favorite songs
A brand new Video Players support the widest range of video (.asf (h2 64), .flv, .mpeg4, .h.263, .divx, .mjpeg) and image formats so you can watch on the go.
jetBook Reader displays and translates your favorite eBooks so reading can be done anywhere and anytime.
GPS navigation capable plus much, much more!




Specifications:

440,000 entry English <-> Albanian translating dictionary with voice synthesis
Audio Travel PhraseBook with speech recognition and real human pronunciation translates and speaks 14,000 travel-related words and phrases in both languages
Audio Travel PhraseBook includes the following topics: Basics, Traveling, Hotel, Local Transport, Sightseeing, Bank, Communication means, In the restaurant, Food/Drinks, Shopping, Repairs/Laundry, Sport/Leisure, Health/Drugstore, Beauty Care, Calling for Police
iHELP pronounces Emergency or frequently used phrases instantly
Talking 39 Language Picture Dictionary with pronunciation for all words
Consistent Full-text Machine Translation
Large English explanatory dictionary
English interface
Windows CE powered for advanced functionality and responsiveness
Hi-resolution touch-screen and hands-free speech navigation functionality with icons and messages
Built-in Video Player supports .avi, .mp3, .wma, .wav, .ogg, .jpg and .png audio, video, and image formats
Robust Audio and MP3 Player lets you to listen your favorite music
Customizable translating jetBook Reader with support for .txt, .fb2, .jpg, .gif, .png, and .bmp file formats
Hangman game, linguistic crossword, notepad, calculator, metric converter, and word time clock utilities.

AC adapter, headphones, USB cable, case and bonus CD are included in the standard package.