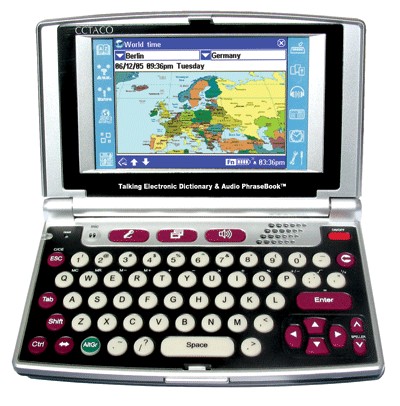 Ectaco Partner EY800 - English <-> Yiddish Talking Electronic Dictionary and Audio PhraseBook
Buy now for

$319.95

(regularly $419.95)

We ship worldwide. Bulk and academic discounts available -- contact us for pricing.


Ships within 3 business days.




Dictionary and Travel Audio PhraseBook EY800 is a powerful translating handheld that features the sacred speech of themame-loshn (n. 'mother tongue'). Originally a code language that originated circa 1100, it is now the fastest growing and most fashionable dialect in Argentina, Canada, France, Israel, Mexico, Romania, and the United States. Spoken everywhere, from your local grocery shop to Hollywood production teams, Yiddish is the hottest thing since bagels and latkes. With its sophisticated voice capabilities and sleek modern design the EY800 features a high-res touch-screen that allows instant access to all your favorite topics. And by Making the font as large or as small as you want, you'll never have to squint to see the words. New state-of-the-art technology allows the translator to speak for you in English or Yiddish using crystal-clear, digital recordings of native-speakers. With its remarkable ability to recognize your voice, you can simply speak into it and have your words translated and spoken in Yiddish, Mozel Tov! Providing users with plenty of learning and communication options is what it's all about, and this extraordinary Audio Travel PhraseBook also includes a massive bi-directional translating dictionary. With more than 35,000 entries, 2,200 travel-related phrases and 1,000 heritage phrases, this extraordinary resource features a huge vocabulary and includes cutting edge English voice synthesis powered by the latest TTS (Text-to-Speech) technology among its collection of essential tools. And should you want to pick up a few dozen of words and phrases to use on a daily basis – Gesundheit! - the EY800 is your intelligent, flexible and responsive companion for communicating in this most interesting of languages.

Highlights:
Superior English speech recognition
Designed for the serious traveler, the Audio PhraseBook provides real human voice output of 2,200 travel-oriented phrases and 1,000 heritage phrases in English and Yiddish. It also displays the responses you can expect to your questions in the 'You May Hear' section
Expandable vocabulary: over 35,000 words included in the general dictionary. Any you can easily add more than 50 other language combinations that are available as ECTACO MMC Cards!
Advanced English and Yiddish speech synthesis pronounces any word
Instant reverse translation
Hi-resolution adjustable color touch-screen that displays color-coded parts of speech, samples of use and more
Dictionaries:
Princeton WordNet English-English dictionary contains more than 70,000 head words with complete definitions
Over 35,000 entries in the English<->Yiddish dictionary
High-quality English TTS (text-to-speech) synthesized voice capability
Advanced MorphoFinder™ English word recognition system
Custom 'Add new word' function permits users to add personal vocabulary to existing dictionaries
Slang lock allows users to 'lock out' slang from translations
Advanced search functions helps users to navigate effectively throughout the entire database
Exchangeable MMC/SD cards allow for the addition of numerous language combinations and extensive linguistic content from Ectaco, Inc.
PhraseBook:
English<->Yiddish Audio PhraseBook with professionally recorded, native-speaker narration of more than 2,200 travel-oriented words and 1,000 heritage phrases
Contains the classic FlashCards language-learning game that lets users improve vocabulary while playing!
Language-learning:
SAT 200 and SAT 5000 vocabularies help anyone preparing for these standardized proficiency tests
Language-learning games: FlashCards, Pockets, Spell It, an a Translation Test all allow users to learn at their own pace to expand vocabulary and improve spelling
Princeton WordNet English-English dictionary contains more than 70,000 head words with complete definitions
Over 35,000 words in the English-Yiddish general dictionary, featuring synthesized English voice and numerous examples of everyday usage
Phonetic transcription helps with pronunciation
Features the award-winning Vector Ultima™ spell-checker
And more…
Media Player with MP3 support - to help you at study and in play. Thousands of Audio Books are currently available to be stored in this MP3 player.
Currency and metric conversions
World Time
Daily Alarm
Calculator
And More…