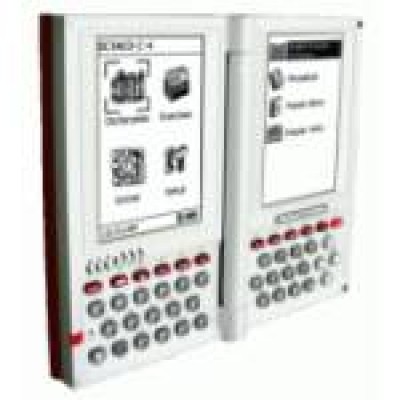 Ectaco Partner C-4G English <-> Greek Professional Talking Electronic Dictionary & eBook
Buy now for

$199.95

(regularly $249.95)

We ship worldwide. Bulk and academic discounts available -- contact us for pricing.
Ships within 3 business days.
Device Type: ECTACO C-4
Language pairs: English <-> Greek; Greek <-> English
Open mode: 5.85 x 5.12 x 0.51 in
Close mode: 3.12 x 5.12 x 0.9 in
Battery Type: Li-Polymer rechargeable battery (3.7V, 800mAh), included
PC connection No

The ECTACO Partner C-4G is a fully expandable, professional-level Talking Dictionary. With two high-quality screens that open like a real book, it offers an enhanced translating and reading experience while taking up a fraction of the space. An absolutely exhaustive dictionary contains more than 505,000 words.

Equipped to speak any entry from dictionary or any word you type into it, the C-4G employs the latest TTS speech capabilities. It also comes pre-loaded with 14,000 indispensable phrases that can also be spoken out loud using crystal clear digital recordings of authentic native speakers. Packed with all the information and utilities necessary for complete understanding, the C-4G makes communicating in another language effortless and accurate. The new Partner is fully customizable and expandable and ready to keep pace with the demands of busy international professionals whether at home or abroad.

As an additional benefit the C-4G package incorporates a bonus CD containing over 150 linguistic applications including translating Dictionaries, FlashCards and PhraseBooks for 39 languages that can easily be used to improve your command of the world's most popular languages.

Exclusive features:
High-resolution display
Expandable vocabulary: over 505,000 words pre-loaded in the general and specialized dictionaries with the option to add more than 50 language combinations available as ECTACO MMC/SD Cards!
Traveler's friend Audio PhraseBook delivers real human voice output in English and Greek for over 14,000 pre-recorded phrases. It also provides the different responses you might receive in the "You May Hear" section
Advanced English TTS speech synthesis delivers the pronunciation of any text, not only dictionary entries
English Standard and Phonetic keyboard layouts
Unlimited pronunciation of text in English language. Type any text you want and it will speak the word out loud using its built-in Text-To-Speech processor.

Dictionaries:
Over 505,000 words in the English- Greek dictionary that featuring synthesized TTS voice output for English language as well as comprehensive examples of use in real-life situations
WordNet Princeton edition English - English dictionary of modern English with over 70,000 head words and detailed explanations
Advanced word recognition and MorphoFinder™
Slang lock: function allowing you to include or lock out slang from your dictionaries
Look-up function helps you easily navigate through huge vocabulary bases at your disposal
ECTACO MMC/SD cards allow you to add a variety of languages and endless linguistic content from ECTACO, Inc.

Language-learning:
SAT 200 and SAT 5000 vocabularies, helping you to prepare for these tough, English-language standard proficiency tests
A handy English grammar guide
American Citizenship test preparation
Linguistic games that help you learn at your own pace, expand your vocabulary and improve spelling
WordNet Princeton edition English - English dictionary of modern English containing over 70,000 head words and detailed explanations
Over 505,000 words in the English and Greek dictionary featuring synthesized TTS voice output for English language as well as comprehensive examples of use in real-life situations
Phonetic transcription provides essential assistance for those learning to speak and write correctly
Vector Ultima™ spell-checker

Traveling:
English <-> Greek Audio PhraseBook with natural human-recorded speech of 14,000 phrases to assist you in a variety of standard everyday situations and activities
FlashCards: the classic game that helps you to improve your vocabulary while you play!

Extras:
English interface
Bonus CD containing over 150 exclusive LingvoSoft applications including Talking Dictionaries, FlashCards and PhraseBooks for 39 languages
Currency and metric conversions
World Time
Calculator
And More…