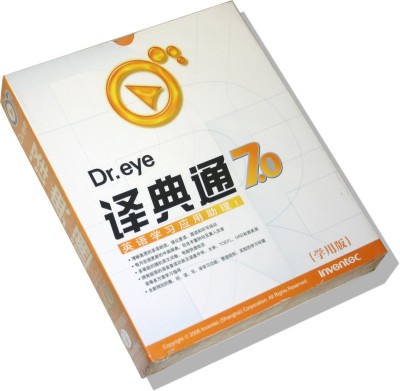 Dr. Eye English <-> Chinese V. 7.0 Standard
Buy now for

$14.95

(regularly $39.95)


We ship worldwide. Bulk and academic discounts available -- contact us for pricing.


In Stock. Ships within 2 business days.




Dr.eye translates the standard to pass 7.0 study with the version is section face English study translation study software, uses the newest translation core technology and the TTS English pronunciation technology, demonstrated using the creative human nature multi- windows, provides the current english application and English studies two big functions.

Instant Translation:

Instant Translation is one of the most attractive functions of Dr.eye series. The multi-window display mode is an original technique created by Inventec, which has obtained patent in several countries.

Instant Writing:

Instant Writing provides Chinese-English and Chinese-Japanese two-way word replacement, instant intelligent spelling check and correction.

Instant Dictionary:

Instant Dictionary has abundant database including Simplified Chinese-English Two-way Dictionary, Simplified Chinese-Japanese Two-way Dictionary, Chinese Dictionary, Subject Glossary, and some knowmation books etc.

Multilingual Input:

Multilingual Input enables you to input Simplified Chinese, Traditional Chinese, Japanese, and English easily. The input methods include Pinyin, Intelligent Pinyin, Zhuyin, Intelligent Zhuyin, English-Chinese, and English-Japanese Input methods, etc.

Letter Assistant:

Letter Assistant is a practical tool for your daily life and work.

Word Manager:

When you use Instant Translation, Instant Writing, or Instant Dictionary, you may add the words you don't remember clearly to Word Manager so that you can review them anywhere and anytime.

Multilingual View:

Sometimes you can't view characters in Traditional Chinese, Simplified Chinese, Japanese, or Korean correctly, probably because it produces some unrecognizable codes. Multilingual View helps you browse any language without any difficulties.

Full-text Translation:

Dr.eye 7.0 supports various modes of Full-text Translation, such as Traditional Chinese to Simplified Chinese, Simplified Chinese to Traditional Chinese, English to Traditional Chinese, English to Simplified Chinese, Traditional Chinese to English, Simplified Chinese to English, Japanese to Traditional Chinese, Japanese to Simplified Chinese, Traditional Chinese to Japanese, and Simplified Chinese to Japanese. You can choose according to your requirements.

Word Builder:

Word Builder helps you remember English words more easily. It helps you study words in different levels, such as Primary School, Middle School, High School, College, GRE, and so on.

Sentence Pattern:

Sentence Pattern helps you study English sentences more easily. There are 6 levels of sentence patterns from easy to hard.

Test Paper:

Test Paper produces test papers according to your requirements. After the test, it will check your paper and give you the right answer. This self-test helps you improve your English effectively.




Product ID: 108222 ISBN-13: 9787900148759 ISBN-10: 7900148752

Categories: Classroom/Schools, Classroom/Teaching Materials, Learn, Translation
Supporting language: Chinese
Platforms/media types: Windows XP, Windows 2000
Specifications: System Requirement(s): Pentium III-500 or faster, English Windows XP with Traditional Chinese Support Enabled or Chinese Windows 2000/XP, 128MB RAM, 680MB hard disk space, 8x CD-ROM drive, 1024x768 resolution, 256 color display.