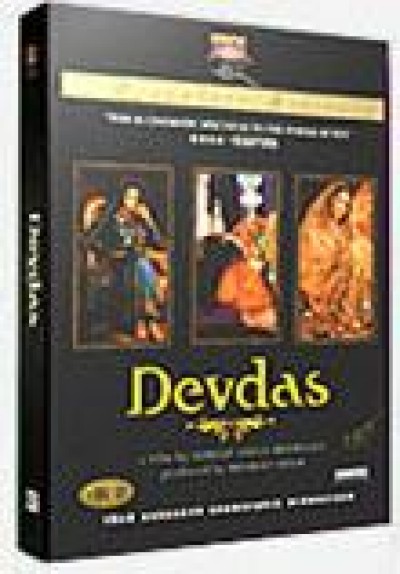 Devdas
Buy now for

$34.95

We ship worldwide. Bulk and academic discounts available -- contact us for pricing.


Ships in 5 - 7 business days.




Devdas (Shah Rukh Khan) and Paro (Aishwarya Rai) are childhood sweethearts. Their love is doomed from the beginning because Devdas is the son of a wealthy aristocrat while Paro's family is way down in the social scale. Devdas' father sends him abroad to study, hoping that the separation will be permanent. When he returns, his love is undimmed and when Paro's mother (Kiron Kher)proposes that the two be united in marriage, she is humiliated and rebuffed by Devdas' father. In despair, Paro offers to give herself, body and soul, to her lover, but he is caught in the trap of convention – and he rejects her. Too late, he comes to realize how much he has lost, because Paro now marries someone else. Devdas seeks refuge in alcohol and in the arms of a prostitute, Chandramukhi (Madhuri Dixit). She falls in love with him, but he is unable to forget Paro…!!




This timeless appeal of this tale has crossed the language barrier in Indian films – it has been made thrice on the Hindi screen, there has been a Bengali version in 1935, two Telegu versions in 1953 and 1974 and a Malayalam version in 1989 and innumerable spin-offs A tragic tale of unfulfilled passion, Saratchandra's nineteenth century novel is an allegory for the decadence and decay of the ruling class – they have lost touch with their souls. Devdas went on to become one of the most enduring icons of Indian films - the aristocratic, lovelorn, sexually impotent, politically disengaged, and ultimately tragic hero.

The choreography of Sanjay Leela Bhansali's Devdas, which premiered at Cannes, was initially offered to famous dancer Uday Shankar's daughter Mamata Shankar but then Birju Maharaj was finalised.

Shah Rukh Khan says, "My interpretation of Devdas is more modernistic. I have tried to look at the subject as it is relevant today. This film is not about Devdas being an alcoholic. It's about a lover who just can't take no for an answer. Of course, I made a lot of effort to add authenticity to the character. I'm not a drinker as such, but in this case, I did the drunken scenes after drinking."

Bhansali's third film is budgeted at around Rs 480 million.

A brand-new singer sings for Aishwarya Rai, Shreya Ghoshal. A lyricist who's quite new to films, Nusrat Badr, has written the lyrics for most of the songs.