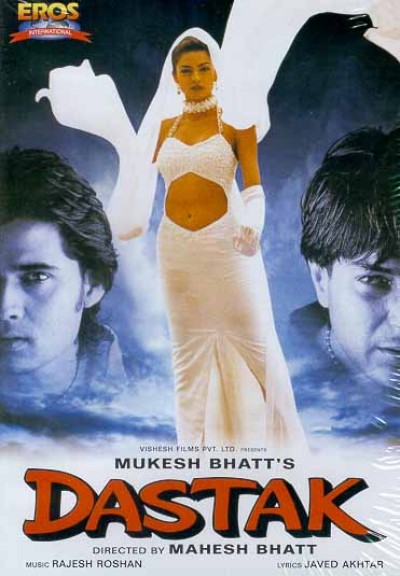 Dastak (New)
Buy now for

$17.95


We ship worldwide. Bulk and academic discounts available -- contact us for pricing.


Ships in 5 - 7 business days.




DASTAK is the classy high tech thriller from renowned director Mahesh Bhatt.The movie stars Sushmita Sen, the 1994 Miss Universe. In the movie, Sen plays her beautiful self, Sushmita, who is being stalked by a psychopath (newcomer SHARAD KAPOOR)named Sharad Sule. The movie starts as Sule is watching a tape of Sushmita winning the crown and getting turned on. Soon, his lust turns to sheer obsession as watching her isn't enough. One night, he spots a drunk man in an abandoned train station making obscene comments about Sush and various parts of her anatomy. Sule flies into a rage and beats the hell out of the guy, sending him into a coma. The man soon dies unconscious. Then, Sule starts stalking Sen at public appearances, nearly scaring her to tears. He sends her letters in the mail, flowers. Then his obsession turns ugly. At a press conference, Sush is asked to name all the ones dear to her. As she names a list of friends and family members, Sule realizes that she doesn't mention him and massacres the TV set from which he is watching. Sule becomes angry that she doesn't acknowledge his love for her so he starts to murder her loved ones. In steps Officer Dev (newcomer MUKUL DEV). Dev is aware that someone is stalking Sushmita and will stop at nothing to get her. Dev becomes her bodyguard. They soon fall in love and Sule finds out. After a few threats Sen gets the jitters again and her and Dev decide that it is best for her to leave the country. They fly to Seychelles where they are cleverly persued by Sule (a treat to watch) and let their guard down. It is then when Sule makes him move and kidnaps Sush with Dev in pursuit.