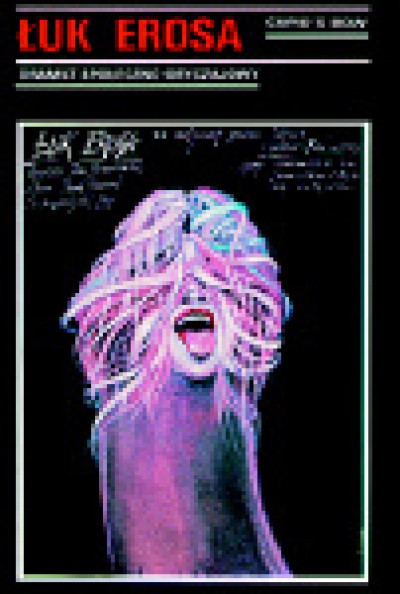 Cupid's Bow
Buy now for

$34.95

We ship worldwide. Bulk and academic discounts available -- contact us for pricing.


Ships within 3 business days.




A powerful drama about a young married woman who rejects her middle-class conventions and struggles for independence. Set in Cracow after the First World War, the film is based on a novel by Juliusz Kaden Bandrowski, and created a scandal in Poland for its unabashed eroticism. Polish with English subtitles.

Krakow na poczatku pierwszej wojny swiatowej. Po wyjezdzie meza Zdzicha na front Maryska Miechowska rzuca sie w wir dzialalnosci patriotycznej, oddajac kilkuletniego synka pod opieke skauta Adama. Zdzich przepada bez wiesci. Ciaglewicz, jego wspolpracownik, proponuje Marysce pomoc w zamian za uslugi erotyczne. Kobieta odmawia i wyjezdza na prowincje do matki. Kiedy po przejsciu frontu wraca do Krakowa, zastaje mieszkanie zmienione przez sluzaca w dom schadzek. Zamieszkuje z dzieckiem u matki Adama. Pod wplywem rozmowy z przyjaciolka, ktora stracila wszelkie zyciowe zludzenia, zostaje kochanka Ciaglewicza. Lecz wkrotce on porzuca ja dla innej kobiety. Tego samego dnia Adam zostaje kochankiem Maryski. Wkrotce Miechowska odkrywa, ze jest w ciazy. Przestraszony Adam ucieka na front, a matka wyrzuca kochanke syna z domu. Znajomy lekarz usuwa ciaze. Maryska zamieszkuje w pensjonacie swej bylej sluzacej i wystepuje w kabarecie. Pewnego razu na sale wchodzi Zdzich. Wrocil z niewoli. Na widok zony wyciaga pistolet. Ale malzonkowie dochodza do porozumienia. Wysmakowana plastycznie ekranizacja powiesci Kadena-Bandrowskiego, ktora kiedys wywolala skandal towarzysko-obyczajowy. Pozbawiona kontekstu politycznego, zyskala duza popularnosc jako film o kobietach wyzwolonych i niezaleznych.

Rezyseria/Director: Jerzy Domaradzki ; Scenarius/Screenplay (wedlug powiesci Juliusza Kadena-Bandrowskiego Luk): Jacek Kondracki , Jerzy Domaradzki ; Zdjecia/Photography: Jacek Blawut ; Muzyka/Music: Michal Lorenc ; Scenografia/Scenography: Andrzej Przedworski ;

Obsada/Cast: Grazyna Trela (Maryska), Jerzy Stuhr (Ciaglewicz), Henryk Bista (Ramke), Olaf Lubaszenko (Adam), Janusz Michalowski (Kalucki), Piotr Machalica (Zdzich), Anna Majcher (Nastka), Ewa Isajewicz-Telega (Janina), Elzbieta Karkoszka (Karowska), Kazimierz Kaczor (Smolarski), Zbigniew Jozefowicz , Edward Zentara , Leon Niemczyk , Ewa Ciepiela , Maria Probosz . Produkcja/Produced by: Konstanty Lewkowicz , Zespol " Perspektywa ", WFF Lodz , Rok produkcji/Produced in 1987 ; Barwny/Color, 119 mins. Premiera/Premiere: 18 I 1988 , Krakow. Nagroda za kostiumy na FPFF w Gdyni, 1987.