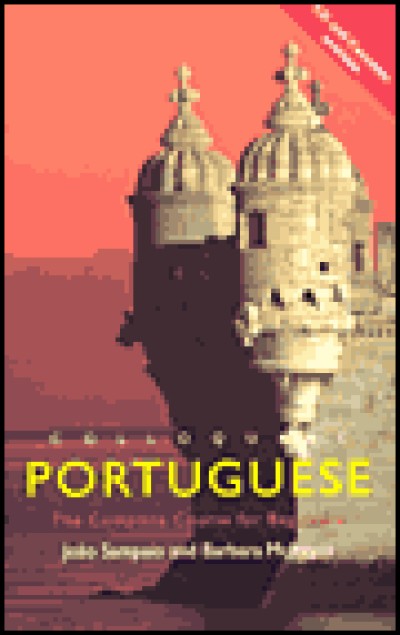 Colloquial Portuguese: The Complete Course for Beginners (Book, Audio CDs, and Audio Cassettes)
Buy now for

$41.00

(regularly $44.95)
We ship worldwide. Bulk and academic discounts available -- contact us for pricing.
Ships in 3 - 5 business days.
Barbara McIntyre and Joao Sampaio
This course teaches the language as it spoken in Portugal. It is closely related to, and yet distinctly different from, Spanish. Any differences of grammar and vocabulary found in Brazilian Portuguese are highlighted, and the language used is kept simple but idiomatic.
Colloquial Portuguese features:
dialogues of everyday encounters and situations
exercises for regular practice
a pronunciation guide
clear, concise grammar notes
an extensive grammar reference section
lists of useful vocabulary
a two-way glossary section of key words and phrases
audio material to enhance pronunciation and listening skills
an author introduction to the course

Colloquial Portuguese covers both the Continental and Brazilian varieties of Portuguese. The course makes extensive use of authentic material and illustration and pays particular attention to the problems of pronunciation.






Product ID: 8463 ISBN-13: 9780415431620

The Routledge Colloquial series is our most popular series of language courses. This is due to the excellent quality, low cost, and amazing range of available languages. The Colloquial series is available in: Albanian, Amharic, Arabic (Egyptian, Levantine, Saudi), Basque, Bulgarian, Cambodian, Cantonese, Chinese, Croatian & Serbian, Czech, Danish, Dutch, Estonian, Finnish, French, German, Gujarati, Hungarian, Indonesian, Italian, Japanese, Korean, Latvian, Lithuanian, Malay, Norwegian, Persian, Polish, Portuguese (Brazialian or Continental), Punjabi, Romanian, Russian, Slovak, Slovene, Somali, Spanish (Latin American or European), Swedish, Thai, Turkish, Ukrainian, Vietnamese, and Welsh!
Each course comes with a book containing lessons and a basic dictionary and either one or two tapes or CDs. These are beginning to intermediate level courses, perfect for travellers, brushing up on skills, or supplementary use.The Colloquial Series is Routledge's acclaimed series of language courses which teach you languages as they are written and spoken today in their native countries and regions. With 50 languages covered, the Colloquial Series offers the widest choice and best help available for today's language learner.
Each one is a complete and accessible course ideal for beginners in the language, or those with a basic knowledge. By the end of each course you will be able to communicate confidently in everyday encounters and situations, whether for pleasure, business or study.

CONFIDENCE

all courses are written by experienced teachers of the language.
all audio materials are recorded by native speakers.
you can be certain that all material is up-to-date.

FLEXIBILITY

these books, cassettes and CDs are the perfect size for travel -- on your personal cassette player, CD player, or laptop computer.
combine the three media for the most thorough method available: read the books, listen to the cassettes or CDs, then enjoy the CD-ROMs.

VARIETY

All the following formats are available:

book: contains all the information necessary to learn the language.
cassettes: Each language has one or, in most cases, two 60-minute cassettes (selected titles also have two 60-minute audio CDs). These provide accompanying material for the book and are recommended for practicing pronunciation and listening skills.
pack: contains both book and cassette (or audio CD) material. Recommended as the best format for getting the most out of your language course.
CD-ROM: make the most of electronic education offered in Chinese, French, Portuguese and Spanish.