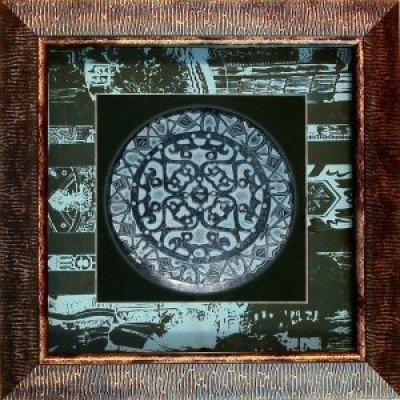 Chinese Bronze Mirror - Dragon And Phoenix
Buy now for

$53.95

(regularly $69.00)
We ship worldwide. Bulk and academic discounts available -- contact us for pricing.
Ships in 3 - 5 business days.
Revamp your decor with the enchanting handmade artistry of this decorative Chinese mirror.
In ancient China, before the invention of modern mirrors, bronze hand mirrors with beautifully decorated backs were used in daily grooming rituals. A bronze mirror has two sides, a reflective side and a decorative back side. Dating back 4000 years, these intricate mirror-back designs reveal distinctive ancient artistry and a significant cultural heritage. No wonder the designs have endured as an art form.

These wonderful mirror-back designs incorporate more than beauty and simple decoration, however, as each exotic pattern contains deeper meaning. The Dragon and the Phoenix design, inside its harmonious circle, represent a balance of Yang and Yin, or male and female energy.

The intriguing decorative side of the bronze mirrors are reproduced in resin, protected beneath glass, and set into a 16.5 x 16.5 inch resin frame (depth 1.25"). It arrives with good wishes for health, happiness, and long life.

These wonderful patterns are offered for your spiritual pleasure, for your connection to an ancient world, and for a touch of simple elegance to your wall decor. Perhaps within one of these timeless designs, you, or a loved one, will discover your true blessings.

Wisdom of the Great Round Mirror

First
A mirror will reflect absolutely any object which comes before its surface,
it will not refuse any object, all are equally accepted.

Second
There exists no distinction between good and evil, big and small, beauty and
ugliness for the mirror. The mirror reflects things as mountains and oceans,
in the same way it will reflect a tiny insect. This is equality of
acceptance, there exists no value judgment, definition or concept, only the
object is reflected.

Third
The mirror reflects the mountain as a mountain, and the ocean as an ocean,
it accepts things as they are without changing them.

Fourth
The mirror never keeps or sticks to a reflection after the object is
removed. It returns to its peaceful state ready to reflect anything that
comes up, not attached to anything.

Cultivate your mind like a mirror.

Category:
Gift Items!
Supporting language:
Chinese
Applicable country:
China
Platforms/media types: Crafts
Specifications: Dimensions: 16.5 in. L x 16.5 in. W x 1.25 in. D