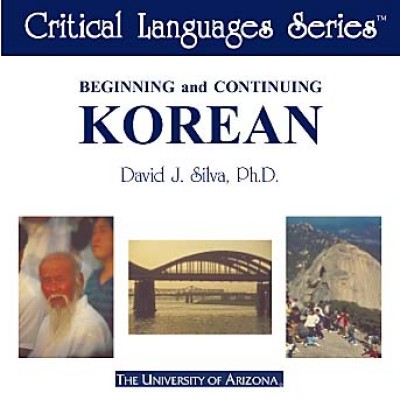 CLS - Beginning and Continuing Korean (2 CD's)
Buy now for

$94.95

(regularly $119.00)
We ship worldwide. Bulk and academic discounts available -- contact us for pricing.
Ships in 5 - 7 business days.
Congratulations on your decision to learn one of the world's most important languages: Korean. Given the continued and sustained growth of Korea's economic, political, and cultural influence on the world scene, knowledge of the Korean language is becoming an ever-increasing asset to a range of individuals across the globe: business men and women, economists and industrialists, diplomatic and military personnel, academics, students, tourists, etc. Whether you are a person of Korean heritage looking to explore your linguistic roots or a non-Korean embarking upon a challenging linguistic enterprise, studying Korean can prove a valuable means of learning more about the history, culture, and people of the Korean peninsula.

Learning Korean via CD-ROM.
In using these CD-ROM materials to acquire Korean, you should realize that the key advantage is flexibility. Whether you are studying on your own, in the context of a self-instructed language program, or as part of an organized class, the materials contained on these two discs have been designed such that you (or your class) can move as quickly or as slowly as need be. For example, some users may decide to skip the initial lessons on learning to read and write Korean script ("hangul"), as they may have already acquired these skills (perhaps in a "Hangul Hakkyo" as children). For other users, however, mastering Hangul may prove a more formidable task. No problem. The beauty of CD-ROM technology is the marriage of sight and sound. Repeat a lesson as often as you need without worrying about rewinding a cassette. Review Korean at 2:00 AM during a bout of insomnia. Take as long as you need to practice, practice, practice. The CD-ROM will always be here, waiting for you.

For more details on how to use the CD-ROMs effectively, see the page of helpful hints that appears at the beginning of each unit.

Adaptive Learning
No language learning materials can provide students with everything they need to know in 10 or 20 lessons. All the same, high quality materials should provide users with models of the target language and allow students the opportunity to adapt the fictional situation of the CD-ROM to real-world contexts. With this in mind, I have created materials that encourage "adaptive learning." If, for example, you encounter a lesson in which two teachers are discussing their course schedule for a week, you should be prepared to adapt their situation to one of your own making. If you are a student, you can talk about your class schedule; if you are a working mom, you can talk about what you have to do during the week; if you are a business person, you can talk about the various meetings and tasks you have to complete in the coming days. As the user, only you have the knowledge and power to transform the materials contained here into meaningful language tools that suit your own needs. As you work on mastering the finite materials provided in any one unit, look to adapt and expand those skills in an infinite number of real-world ways.

(If you are at a loss of ideas on how to apply the material in any given unit, click on the relevant link found at the end of most units; there you will find ideas on how to develop your language skills.)

Some Notes on the Content of the Materials.
As is always the case, the developer of beginning language instruction materials is faced with some difficult decisions. In the case of Korean, some of these decisions are complicated by a range of socio-cultural and grammatical issues inherent in the language.

For example, you may notice that from the very outset, many Korean sentences / expressions seem to end the same way, namely with the sound "-yo." This particle, "-yo," is an indication of speech that is informal but polite. Indeed, Korean possesses a range of such sentence endings, each of which provides information about the relative formality, politeness, and intimacy of the interaction. In developing the materials for this CD-ROM set, I have elected to begin with the "-yo" ending, as I feel it to be the "safest"; it is certainly polite and not so formal as to come across as stiff or unfriendly. As you work through the 20 units, you will learn more about sentence endings, thereby increasing your repertoire of language skills for a wide range of social contexts. In each unit, you will have access to both a "monologue" and a "dialogue." Both components are important to your language development. Generally speaking, the monologues have been written in a style that is more written; you can, for example, ignore the video and audio and use the monologues to practice reading Korean. The dialogues, however, have been written in a more interactive, conversational style. As you listen to the audio and watch the video, imagine yourself in place of the actors; imitate their inflections and expressions; make their language your language. Speaking of the actors, you may note that the CD-ROM materials have been written around two main characters, Ms. Kim and Mr. Park. Having access to both a female and a male speaker will give you, the learner, a better sense of how the language might differ between the sexes, particularly in terms of intonation. In addition, by making Ms. Kim and Mr. Park co-workers of a similar rank, you will have the opportunity to learn Korean forms that used by individuals who are polite to each other, without being too formal; such a style is perhaps the most realistic to acquire first. In addition, you should consider Ms. Kim and Mr. Park your own personal Korean language tutors, available twenty-four hours a day, seven days a week. Get to know them over the course of the twenty units and enjoy the relationship you develop with each. Finally, it is important to admit that Korean--like any language--encodes a huge range of variability in how an idea can be expressed: there is always more than one way to say the same thing. With this point in mind, you should be aware that the Korean you learn here is a "sample" of what Koreans say and hear on a regular basis. As you interact with native speakers of Korean, you will undoubtedly encounter variations in vocabulary, grammar, and pronunciation. That's perfectly normal. Be confident in what you have acquired, and use such encounters with the inherent variations in real-life language as learning opportunities. 45 video dialogues and readings by native speakers Over 7,500 audio recordings Classroom tested Extensive footnotes Graphics Activities for each lesson: Browse Multiple Choice Vocabulary Completion Audio Flashcards Pronunciation Listening Dictation By: David James Silva, Ph.D. Associate Professor of Linguistics The University of Texas at Arlington




Product ID: 42732 ISBN-13: 9781929986019

Categories: Learn, Software - Windows
Supporting language: Korean
Platforms/media types: Windows NT, Windows XP, Windows 2000, Windows ME, Windows 98
Specifications:

Windows 95/98/NT/2000/ME, 486 (or better), 16MB RAM minimum, 2x CD-ROM drive, SVGA (or better), sound card, speaker, and 9MB disk space. Microphone recommended.