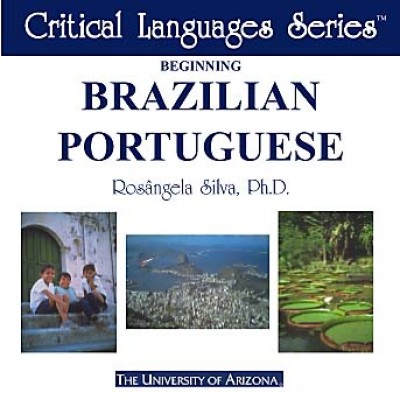 CLS - Beginning Brazilian Portuguese (2 CD's)
Buy now for

$94.95

(regularly $119.00)
We ship worldwide. Bulk and academic discounts available -- contact us for pricing.
Ships in 5 - 7 business days.
BEGINNING BRAZILIAN PORTUGUESE (BBP) provides language instruction for use in and outside the classroom, as class supplement, or as a self-instructional tool. BBP includes 20 lessons. Each lesson consists of a dialogue and/or text, footnotes with grammar and cultural notes, and several types of exercises. Although learners are free to use the material according to their own learning strategies, BBP includes a Suggested Activity List, which takes into account recent findings in foreign language learning research. Initially, learners listen to Portuguese spoken by native speakers both in videos and in audio recordings. Videos are particularly rich because they can also offer paralinguistic features such as gestures and facial expressions.
After trying to get as much as possible from the oral and visual sources, learners listen to the text while following its written form. This mode allows learners to listen to the whole text, as well as to sentences and words individually, if desired. At the word level learners have links to footnotes about grammar and culture, all explained in English, and presented in ascending complexity from lesson 1 to 20. In addition, at any time learners have access to the English translation of words and sentences, although the lesson texts are in Portuguese only.
When learners are confident about their general comprehension of the lesson text they go through several exercises which offer immediate correction, and can be repeated as many times as desired.
'Flashcards' help learners review and expand vocabulary

'Multi' and 'Cloze' expand learners' grammar and vocabulary

'Dictation' tests learners' writing skills and points out particularities of the language such as accent marks

'Pronunciation' allows learners to compare their own pronunciation to that of a Brazilian native speaker. In contrast to the traditional classroom setting, where the learner has the native pronunciation available only few hours a week, this interactive multimedia language tool offers the learners native pronunciation at any time and as much as desired.

Taking into account the role of music in foreign language learning, some lessons include original songs by Kaia on the topics of the lessons. Learners will be able to memorize them and sing them along with the singer. At the bottom of each lesson, learners make sure they learned what was expected from them in that particular lesson by checking the lesson summary. Finally, the link 'further practice', as the name suggests, gives the learners the opportunity to go beyond and explore the language on their own. BBP indeed makes the language learning process much more fun. This motivating material has been constructed with thorough consideration of recent research to ensure an effective means of learning a foreign language.
39 video dialogues and readings by native speakers
Over 9,000 audio recordings, including original songs
Classroom tested
Extensive footnotes
Graphics
Activities for each lesson:
Browse
Multiple Choice
Vocabulary Completion
Audio Flashcards
Pronunciation
Listening Dictation




Product ID: 42728 ISBN-13: 9781929986002

Categories: Learn, Software - Windows
Supporting language: Brazilian Portuguese
Platforms/media types: Windows NT, Windows XP, Windows 2000, Windows ME, Windows 98
Specifications:
Windows 95/98/NT/2000/ME, 486 (or better), 16MB RAM minimum, 2x CD-ROM drive, SVGA (or better), sound card, speaker, and 9MB disk space. Microphone recommended.