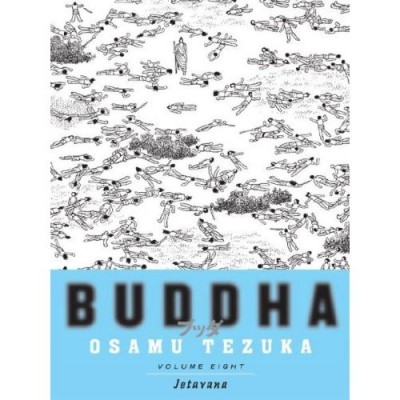 Buddha by Osamu Tezuka in English Vol 8 - Jetavana - paperback
Buy now for

$14.95


We ship worldwide. Bulk and academic discounts available -- contact us for pricing.


In Stock. Ships within 2 business days.




Review "Infused with humor and history, the epic of Siddhartha is perhaps Osamu Tezuka's crowning acheivement and illustrates why, without irony, Tezuka is referred to as 'The King of Japanese Comics'." - LA Weekly "Buddha is one of Tezuka's true masterpieces. We're lucky to have this excellent new edition in English." - Scott McCloud, author of Understanding Comics "A relentless page-turner boasting a cast of hundreds, Buddha: Volume 3: Devadatta concerns Siddhartha's earliest ordeals after he forswears his kingdom to lead a life of ascetic purity...Siddhartha's comtemplative life becomes a swashbuckling adventure." - Newsday "In handsome volumes designed by Chip Kidd, the Vertical books present Tezuka at his best." - National Post Book Description The Eisner and Harvey Winner The third volume of this epic graphic novel send Siddhartha further into a world mired in pain and suffering. The journey to peace and enlightenment looms far but bright. Prince Siddhartha quickly learns that the monk's path is covered in thorns and self-abuses much more profound than shaving your head. His new companions Dhepa and Assaji accompany him to plague-ridden town, ruled by the ravashing Visakha. On a different path filled with as many vararies is Devadatta, an orphan who learns only that bad almost always gets worse. To strange cities, and dire prophecies...