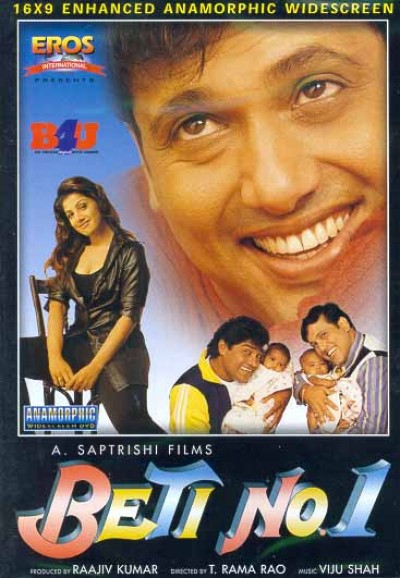 Beti No.1
Buy now for

$19.95
We ship worldwide. Bulk and academic discounts available -- contact us for pricing.
Ships in 5 - 7 business days.
The story begins with a wealthy house hold dominated by Aruna Irani, with her husband, three sons Ashok Ashraf, Laxmikanth Berde and the youngest Govinda. Ashok and Laxmikanth are married and both are fathers to Girls. This causes Aruna much worry as to who will continue the family lineage and out of the resentment sends both the daughter in laws back to their parents home. Her last hope her son Govinda is persuaded into marrying Rambha, and has the unwanted burden of bearing a son.In this house Aruna's dominance is total; even her own husband Prem Chopra submits to her whims ans fancies. Coincidentally Govinda and his friend Jhonny Lever a detective are both expectant fathers around the same time, and their respective wives are admitted to the same hospital . Meanwhile Aruna who suffers a heart attack arrives at the same hospital. Jhonny is the first one to become a proud father of a son whom he rushes over to Govinda, on the other hand Rambha gives birth to a girl. While Govinda is playing eith Jhonny Son Prem enters and assumes the boy is Govinda's and rushes to his wife saying that they have a grand Son. Now Govinda Has fathered a girl too but he cant disclose the truth to his family.