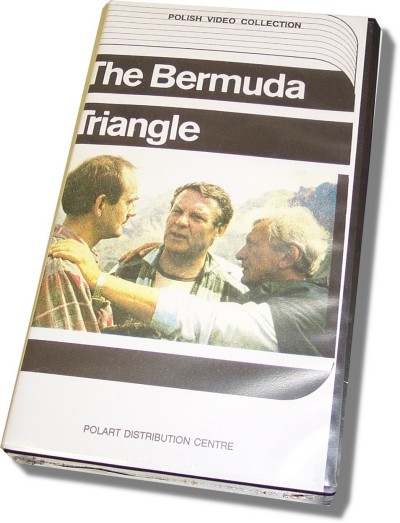 Bermuda Triangle (Trojkat Bermudzki),The
Buy now for

$25.95


We ship worldwide. Bulk and academic discounts available -- contact us for pricing.


Ships within 3 business days.




Henry, a doctor from Cracow; Ludwig, a popular lawyer from Lodz; and Jarek, the owner of a car repair shop in Gdansk, have known each other for years. Their friendship has been strengthened by their frequent mountain climbing trips; they can count on and trust each other in every situation. Now, as middleaged men, they have money, social positionbut also serious troubles. Henry's daughter is being blackmailed, Ludwig is a victim of the intrigue set up by his wife and her lover and Jarek has enormous financial problems. So the three old friends decide to commit what they think is the "perfect" crime in order to get out of their terrible predicaments. Will they succeed? Polish with English subtitles.

Henryk, bogaty krakowski lekarz, wydaje za maz corke. Odwiedza go Zbyszek, dawna sympatia Moniki, i za kilka tysiecy dolarow oferuje kasete z filmem pornograficznym z udzialem jego corki. Doktor, przekonany, ze kupuje jedyny egzemplarz, wyklada zadana sume. Pozniej, w klubie, podczas wieczoru kawalerskiego Piotra, przyszlego ziecia, ogladaja ten sam film. Piotr zrywa zareczyny. Jarek, wlasciciel warsztatu samochodowego w Gdansku, dowiaduje sie, ze wraz ze swym kuzynem Romanem zostal spadkobierca fortuny dziadka. Warunkiem jest pogodzenie sie krewnych, lecz Roman odtraca wyciagnieta dlon. Ludwik, lodzki adwokat, zostaje aresztowany pod zarzutem spowodowania smierci przechodnia. Jest niewinny, ale fakty wskazuja na niego. Zostaje skazany na rok wiezienia. To zona ze swym kochankiem, Krzysztofem ukartowali cala sprawe, by uzyskac rozwod i zachowac rownoczesnie majatek. Mija rok. Barbara zdobywa pod kierunkiem Krzysztofa licencje pilota sportowego. Jej loty obserwuje Jarek. Adwokat za kilka dni wychodzi z wiezienia. Zona nie zgadza sie na wycofanie pozwu rozwodowego. Ludwik w wiezieniu podejmuje decyzje. Jarek jedzie do Lodzi i zaklada ladunek wybuchowy w samolocie. Barbara i Krzysztof gina w katastrofie. Henryk udaje sie do Gdanska i w basenie, w ktorym kapie sie Roman, umieszcza przewody elektryczne. W tym czasie Jarek ma alibi, przebywajac na obserwacji w szpitalu. Po wyjsciu z wiezienia Ludwik jedzie do Krakowa, odnajduje mieszkanie Zbyszka i podaje mu smiertelna dawke narkotyku. Henryk w tym czasie pije alkohol w barze. Trzej przyjaciele spotykaja sie w gorach. Kiedys polaczyl ich alpinizm, dzis laczy zbrodnia. Nagla zmiana pogody sprawia, ze wracaja z wycieczki do chaty Henryka. Spi tu juz przypadkowy turysta, ktory zasnal czekajac na gotujaca sie wode. Gaz ulatnia sie zalanego palnika. Jeden z mezczyzn zapala zapalniczke... Film kryminalny, poruszajacy odwieczny dla tego gatunku problem zbrodni doskonalej.

Rezyseria/Director: Wojciech Wojcik ; Scenarius/Screenplay (wedlug powiesci Jonathana Trencha Wieczor przy Oak Line): Elzbieta Zawadowska-Kittel , Wojciech Wojcik ; Zdjecia/Photography: Jacek Mieroslawski ; Muzyka/Music: Zbigniew Gorny ; Scenografia/Scenography: Malgorzata Wloch ; Obsada/Cast: Marian Kociniak (Jarek), Jan Peszek (Ludwik), Leonard Pietraszak (Henryk), Grazyna Trela (Barbara), Barbara Soltysik (zona Jarka), Maria Probosz (Monika), Jan Jankowski (Piotr), Marek Lewandowski (Roman), Jacek Luczak (Zbyszek), Dariusz Siatkowski (Krzysztof). Produkcja/Produced by: Joanna Kopczynska , Zespol " Zodiak ", WFF Lodz , Rok produkcji/Produced in 1987 ; Barwny/Color, 99 min. Premiera/Premiere: 17 X 1988 , Warszawa.