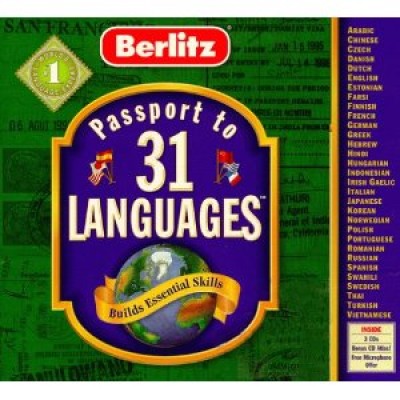 Berlitz Passport to 31 Languages
Buy now for

$8.95

(regularly $19.95)
We ship worldwide. Bulk and academic discounts available -- contact us for pricing.
Availability: unknown
Select to Learn 31 Different Languages From Seven Different Host Languages.
This state-of-the-art language learning tool offers 31 world languages and extra features to make practicing your new language skills both fun and exciting. Choose to learn from seven different host languages. Compare your pronunciation to that of native speakers and track your progress with advanced speech-recognition technology. When learning is this much fun, you'll easily learn the vocabulary, key phrases, and cultural information needed to travel with ease or ace your next language exam.
Key Features:
Choose to learn vocabulary through phonetics or international character sets.
See the word in your target language. Click to hear it pronounced.
Learn vocabulary at your own pace, using photographs and native speaker pronunciation.
Compare your pronunciation to a native speaker's through speech recognition.
Reinforce learning through fun and challenging activities.
Learn phrases related to the chosen topic.
Navigate to other parts of the program. Choose a new topic.




Categories: Classroom/Schools, Classroom/Teaching Materials, Learn
Supporting languages: Arabic, Brazilian Portuguese, Chinese, Czech, Danish, Dutch, Finnish, French, German, Greek (Modern), Hebrew, Hungarian, Indonesian, Irish, Italian, Japanese, Korean, Norwegian, Polish, Portuguese, Romanian, Russian, Spanish, Swahili, Swedish, Tagalog, Thai, Turkish, Ukrainian
Platforms/media types: Windows 95/98, Windows 2000
Specifications:
Windows
CPU 486 DX/66 MHz or better
OS Windowsr 95 & Windowsr 98
RAM 16 MB RAM
Hard Drive 15 MB minimum
CD Rom Drive 2X
Video 256-color SVGA
Sound Windows-compatible Sound card,
Speakers
Mouse Required
Modem
Printer

Berlitzr Passport to 31 LanguagesÖ

Experience Words and Their Meaning
Using photographs of actual objects, printed text and translations, and readings from native speakers you'll have plenty of practice with vocabulary and simple, useful phrases.





Select a Topic
Now, pick a topic that's relevant to your up coming travel experience, or one that supplements your classwork. You'll learn key vocabulary words by seeing pictures, reading words and hearing them pronounced.


Berlitzr Passport to 31 LanguagesÖ
Thunderbeam Seal of Approval, 4 out of 4 stars, Thunderbeam, January 28, 1998 *Berlitzr Series
The language is presented in clear and small segments so learning is quick and easy.
Hundreds of speaking, listening, reading, and grammar exercises develop all around fluency.
Motivating tests track progress and give rewards.