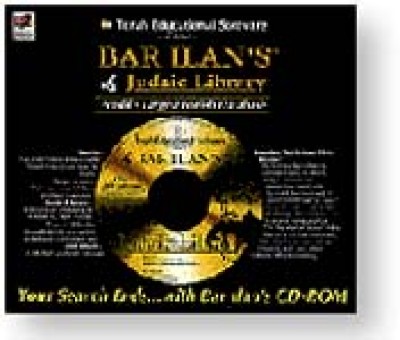 Bar IIan Responsa Partial Library Owner's Upgrade for Windows
Buy now for

$233.95

(regularly $299.95)

We ship worldwide. Bulk and academic discounts available -- contact us for pricing.


Ships in approximately 10 business days.




Bar Ilan Responsa Project
World's Largest Jewish Database NEW! IMPROVED!
Your Search Ends...with Bar Ilan's CD-ROM,
the professional choice.

NEW SOFTWARE FEATURES IN DETAIL:

Numerous major features have been added in Responsa 6.0, including: New, improved interface
All windows automatically locked
New search option - simple searches
New options for saved searches -
Saved searches can now be performed over multiple databases
User-assigned names for saved searches
The results of multiple saved searches can be combined directly in a single saved search
New display options -
Filtering out duplicate search results from the same passage
Viewing only selected search results on screen
Displaying the actual text of citations, rather than just a list of citations
Displaying breakdown of search results by database when searching multiple databases
Text can be copied directly from text windows and expanded display windows to the Search screen
Books in databases can be arranged alphabetically or in their real order
In addition, existing features have been improved, new databases have been added (Halachah and Minhag, Commentaries on the Shulchan Aruch), new texts have been added to existing databases, and thousands of new hypertext links have been included.

FEATURES

A New, Exciting And Unprecedented Value. Bar Ilan University has significantly upgraded their already industry-leading, world famous Judaic Library on CD-ROM. Now, for instance, the commentary of Tosafos is included with the unparalleled accuracy based on critical texts that is Bar Ilan's hallmark. There's also more in terms of software features. "Citations" allows you to look up a verse (pasuk) in Tanach, to cite one example, press a button, and automatically have instant access to every place where that verse is discussed on any page of the Talmud (Gemara). Or consider the new "Hyperlinks" feature. Imagine learning Tosafos who cites a passage in the Midrash Rabbah. Press on a hyperlink and automatically view the relevant passage in the Midrash.

Hypertext between databases:

Hypertext between the Bible, Mishnah, Talmud Bavli and Minor Tractates. Hypertext between Rashi/Tosafos and the following databases: Bible Mishnah, Tosefta, Minor Tractates, Talmud Bavli, Rashi, Tosafos, Talmud Yerushalmi, Aggadic Midrashim, Halachic Midrashim
Hypertext between Shulchan Aruch/Rema and the Responsa databases Cross references to biblical citations in other databases (Mishnah, Talmud Bavli, Minor Tractates, Rashi on the Bavli, Tosafos)
Enhancements to the Copy and Paste feature:
Pasting to the clipboard, file or printer
Copying selected search results in a window
All words of the search string are highlighted in search results Windows and expanded display windows
Option to display only selected search results
Use of different fonts:
In Parsha databases: dibbur haMaskil appears in a different front than regular text
In Shulchan Aruch database (Beis Yosef and Rema)
Forms in the Filtered Search screen can be listed in order of frequency or in alphabetical order

. ABOUT THE PROGRAM

Simple to use...
Yet more powerful than anything that exists...
Access and search...
Centuries of scholarship & wisdom in a split second...
View Original Hebrew Text, & Commentaries at once!
Research and read...
Stories and actual court cases over 1000 years old...
Prints...
Complete Original Hebrew text...

Jerusalem Post Review By J. SIEGEL-ITZKOVICH
(July 8, 1998) - Bar-Ilan University Global Jewish Database (Responsa Project), Version 5.0, a CD-ROM in Hebrew and Aramaic, produced by the BIU Responsa Project

Rating: 5 stars

The Responsa Project disk, a product of over two decades of research and development at Bar-Ilan University, covers 4,000 years of written Jewish scholarship and is considered the "last word" in biblical, talmudic and halachic technology.

Beginning with the Bible, the disk includes numerous Bible commentaries - the Mishna, Tosefta, Babylonian and Jerusalem Talmud, halachic and aggadic midrashim, the Rambam, Shulhan Aruch, Mishna Brura - and an incredible variety of responsa (halachic questions and answers) that go back to the great sages of Babylonia in the eighth century CE and continue through the 20th century, with rabbis Moshe Feinstein, Shlomo Zalman Auerbach, Eliezer Waldenberg and Ovadia Yosef. The oldest of the texts were typed into the data bank by hand to avoid damaging the fragile pages.

Although casual users might be put off by the price, serious scholars and students will find the nearly 700 volumes on the disk invaluable since most are unavailable to the general public; even those that are in print cost tens of thousands of shekels and take up many meters of shelf space.

The 5.0 version (replacing the 4.0 version, which appeared in 1995) is more advanced technologically and includes many additional sources, such as Tosfot, Zohar, Avot DeRebbi Natan, Yalkut Shimoni (on the Torah), Ibn Ezra (on Tanach), Biur Halacha (Mishnah Berura) and new responsa texts like Avnei Nezer, Orah Haim, Yoreh Deah, Even Ha'ezer, Igrot Moshe (volume 8) and Piskei Din Yerushalayim (volume 4).

The best new feature is a Windows-based search and retrieval with hypertext, allowing cross-referencing from one piece of text to the other.

Users can look up a biblical verse, for example, and with the press of a key instantly locate every place in the Talmud where it is discussed. The hypertext capability is available between the Bible, Mishna, Babylonian Talmud and Minor Tractates; and among Rashi/Tosfot and the Bible, Mishna, Tosefta, Minor Tractates, Babylonian and Jerusalem Talmud, and halachic and aggadic midrashim. Copying and pasting material, saving on a "clipboard" and sending to the printer is much easier than before, and larger fonts can be used (for the nearsighted).






TEXTS INCLUDED: TORAH RASHI on TORAH

NIVEIM
KISUVIM
FULL RASHI
YALKUT SHIMONI
IBN EZRA
SEDER OLAM
MIDRASH RABA
MIDRASH ZUTA
PESIKTA RABATI
MIDRASH TANCHUMA
MIDRASH AGGADA
MIDRASH SHMUEL
MIDRASH TEHILLIM
MIDRASH MISHLEI
TANA DVAI ELIYAHU
OTZAR HAMIDRASHIM
GEMATRIA SYSTEM
MISHNA
TALMUD BAVLI & RASHI
TOSAFOS
RAMBAM MISHNA TORAH
KITZUR SHULCHAN ARUCH
RABBINICAL BIOGRAPHIES
TALMUD YERUSHALMI
TUR
EVEN HAEZER
ORACH CHAIM
CHOSHEN MISHPAT
YORA DAYA
SHULCHAN ARUCH & RAMAH
BET YOSEF
MISHNA BRURA & BIUR HALACHA
MIDRASH HALACHA
MIKHILTA DVEI YISHMAEL
SIFRA
SIFRI
SIFRI ZUTA
ONKELOS
RAMBAN
MITZUDAT ZION
MITZUDAT DAVID
RALBAG
RADAK
ZOHAR
AVOS DEREBBI NOSSON
Tosefta
Mesechtos Kitanos
Michilta D'Rashbi
Midrash Tanaim Devarim
Beis Yossef Al Hatur
Avnei Nezer
Beis Ridvaz
Yechave Daas Vol. 3
Yabeya Omer Vol. 7
Piskai Din Yerushalayim
RESPONSA
ACHIEZER
ADMAT KODESH
ASHER LESHLOMO
AVKAT ROCHEL
AVNEI HAEPHOD
AVNEI SHAYISH
AVNEI NEZER
BAALEI HATOSAFOT
BACH
BEER SHEVA
BEER YITZCHAK
BET YEHUDA
BET YOSEF
BINYAMIN ZEEV
BINYAN TZION
BIRKAT AVROHOM
CHACHAM TZV
I CHACHMEI PROVINCIA
CHAIM BEYAD
CHAIM SHAAL
CHATAM SOFER
CHAVOT YAIR
CHAZEI HATENUFAH
CHUT HAMESHULLASH
DAAT CHOEN
DARCHAI NOAM
DIVREI CHACHAMIM
DIVREI RIVOT
DIVREI YOSE
EIN YITZCHAK
EMUNAT SHMUEL
EVVEN HAEZER
EZRAT COHEN
GINNAT VERADIM
HALACHOT KITANOT
HAR TZVI
HARI MIGASH
HACHIDA
HAELEF LECHA SHLOMO
HARADACH
HARADBAZ
HARAMBAM
HARAMBAN
HARAN
HARANACH
HARASHBA
HARAVAD
HAREEM
HAREMA
HAREMA MIFANO
HAREMEZ RARID
HARIF
HARITVA
HARIVASH
HAROSH
HEICHAL YITZCHAK
IGROT MOSHE
KOL MEVASSER
MAASEH NISSIM
MABIT
MAHARACH OR ZARUA
MAHARALBACH
MAHARAM ALASHKAR
MAHARAM ALSHECH
MAHARAM GALANTE
MAHARAM MIROTENBERG
MAHARAM PADUA
MAHARI BEIRAV
MAHARI BEN LEV
MAHARI MINTZ
MAHARI WEIL
MAHARIK
MAHARIL
MAHARIT
MAHARSHACH
MAHARSHSAL
MAHARSHAM
MARHARSHDAM
MAYIM AMUKIM
MELAMMED LEHOIL
MESHIV DAVAR
MICHTAM LEDAVID
MIN HASHAMAYIM
MINCHAT YITZCHAK
MISHPAT COHEN
MOR VAAHALOT
NIVCHAR MIKESSEF
NODA BIYAHUDAH
NOSEI HAEPHOD
ORACH MISHPAT
ORACH CHAIM
OSEF PISKEI DIN
PANIM MEIROT
PEULAT TZADDIK
PISKEI DIN RABBANIM
PISKEI UZIEL BESHEELOT HAZEMAN
PISKEI DIN YERUSHALAYIM
R. ABRAHAM BEN HARAMBAM
R. AKIVA EIGER
R. AZRIEL
R. BETZALEL ASHKENAZI
RABBEINU GERSHOM MEOR HAGOLAH
RASHI
RAV PEALIM
SEFER HAYASHAR
SEFER LEKET YOSHER
SERIDEI AISH
SHAAREI TZEDEK
TESHUVOT HAGEONIM
SHEILAT DAVID
SHEILAT YAAVETZ
SHEVUT YAAKOV
SHIVAT TZION
SHOEL UMESHIV
SHOEL VENISHAL
SHTEI HALECHEM
SHUFREI DEYAAKOV
TASHBETZ
TERUMAT HADESHEN
TESHUVAH MEAHAVAH
TORAH LESHAMAH
TORAT EMET
TOV AYIN
TZEDAKAH UMISHPAT
TZITZ ELIEZER
VAYIKRA AVRAHAM
YABBIA OMER
YACHIN UBOAZ
YAVEYE OMER
YECHAVEH DAAT
YESHUOT MALKO
YOREH DEAH
YOSEF OMETZ
ZICHRON MOSHE
ZICHRON YEHUDAH
ZIVCHEI TZEDEK

TWO THOUSAND YEARS OF TEXTS AT YOUR FINGERTIPS

"A First Look at Bar Ilan Responsa Version 5 for Windows 3.x, 95 and NT 5"
by Ronnie Figdor

The Bar Ilan Responsa is the second Judaic text libraries I have reviewed in as many weeks. The database covers literally thousands of volumes of Bible, legal texts and hundreds of years of Responsa. The range of books is very generous: Bible (99), Bible Commentaries (9), Mishnah (63), Tosefta (61), Minor Tractates (13), Talmud Bavli (37), Rashi on Talmud (37), Tosfot (36), Talmud Yerushalmi (39), Halachic Midrashim (7), Aggadic Midrashim (36), Zohar (12), Rambam (85), Tur (4), Bet Yosef (4), Shulchan Aruch (7), Kitzur Shulchan Aruch (2), Mishnah Berurah (1), Beur Halachah (1), Medieval Responsa (33), 16th Century Responsa (29), 17th-19th Century Responsa (53), and 20th Century Responsa (23). Many of the books are printed over several volumes - one of the 20th Century Responsa books is printed in 15 volumes alone. With over 690 books, this would represent shelves of over 1,000 volumes! The printed versions of these would cost over $30,000! The requirements for the program are CD-ROM drive, Win 3.x/95/NT 5, 2 Mb RAM, 7 Mb free hard disk space and a good command of Hebrew/Aramaic. It comes with a dongle to attach to the computer's printer port for copy protection. While the manual and all menus, dialog boxes, etc. are in English only, the texts are all in the original Hebrew or Aramaic.

The Responsa installs from a CD-ROM and copies some databases and some Hebrew fonts to hard disk. The program runs on Windows 3.x, on Windows 95 and on version 5 of Windows NT. Product support is listed under help and gives Israel and US offices. The help also includes great tips on searching.