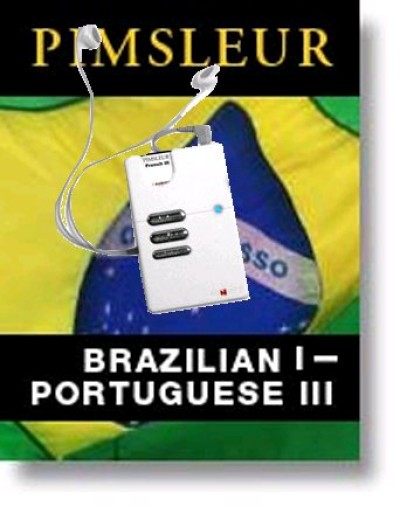 Audiofy Pimsleur Portuguese Brazilian I, II & III with Audiofy Player
Buy now for

$449.00

(regularly $495.00)

We ship worldwide. Bulk and academic discounts available -- contact us for pricing.


Ships within 3 business days.




Includes the iPod-like Audiofy Player. Normally these sell for as much as $885. Please check the low discounted price here. Maximize your savings by purchasing Pimsleur Comprehensive Brazilian Portuguese I, Pimsleur Comprehensive Brazilian Portuguese II and Pimsleur Comprehensive Brazilian Portuguese III together! With Pimsleur Language Programs you don't just study a language, you learn it -- the same way you mastered English! And because the technique relies on interactive spoken language training, the Pimsleur Language Programs are totally audio -- no book is needed! The Pimsleur programs provide a method of self-practice with an expert teacher and native speakers in lessons specially designed to work with the way the mind naturally acquires language information. The various components of language -- vocabulary, pronunciation and grammar -- are all learned together without rote memorization and drills. Using a unique method of memory recall developed by renowned linguist, Dr. Paul Pimsleur, the programs teach listeners to combine words and phrases to express themselves the way native speakers do. By listening and responding to thirty minute recorded lessons, students easily and effectively achieve spoken proficiency. No other language program or school is as quick, convenient, and effective as the Pimsleur Language Programs.




Product ID: 106094 ISBN-13: 9781599128429

Audiofy Player Details: Skip-proof, smaller and lighter than CD and cassette players. Far more affordable than digital music players. Far more portable than desktop computers and laptops. Saves the listening position for all of your Audiobook Chips. Jump to any passage or bookmark whenever you choose. The Audiofy Player is all that's needed to listen to an Audiofy audiobook chips - no need to understand, or even own, a computer. The Audiofy Player can quickly jump from section to section, and it even announces each passage by name - making it convenient for "no look" navigation and for anyone who finds it difficult to read the small, poor contrast displays on other audio players. A single, compact Audiofy audiobook chip can hold a spoken audio title that runs for five, 10, 15 hours or more, traditionally spread over a binder-full of more fragile cassettes or CDs. The Audiofy Player weighs less than three ounces with batteries installed, and comes complete with ear buds and two AAA batteries, making it an ideal "go anywhere" playback device. Attach the Aerielle AudioBUG FM Transmitter, available separately as an accessory, to listen to Audiofy audiobook chips through the stereo system of your vehicle, while you are traveling or commuting.