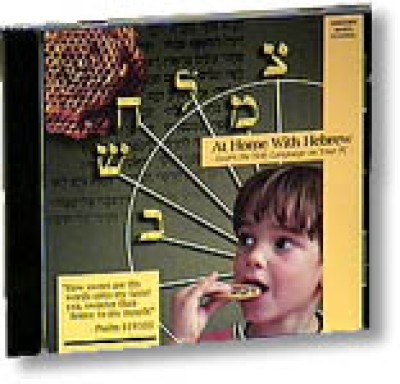 At Home with Hebrew CD-ROM Tutorial
Buy now for

$89.99

(regularly $99.95)
We ship worldwide. Bulk and academic discounts available -- contact us for pricing.
In Stock. Ships within 2 business days.
Beginning modern & biblical Hebrew for all ages.
Over 800 screen pages and 2500 voice files (Israeli/Sephardic Pronunciation).
Student tracking features for home schoolers.
Learn about the Jewish calendar, along with numbers, days and months.
Discover six different styles of written Hebrew, including cursive and Rashi.
Learn the 400 most used words and the names of all the books of the Bible in Hebrew.
6 fun games (e.g., learn the 12 Tribes, dial an Israeli phone or play "Memory Match".)
Inculdes hundreds of scriptures and several traditional Jewish blessings and chants, such as Shma v'Ahavta and Kaddish.
Brief introduction to cantillation symbols.




Categories: Learn, Software - Windows
Supporting language: Hebrew
Platforms/media types: Windows 95/98, Windows NT, Windows XP, CD-Rom, Windows 2000, Windows ME
Specifications:
PC 386+
6-10 MB of disk space
Mouse
Sound Blaster card (optional)

Features:

16 Lessons that introduce each of the 22 letters and the vowels
Every word on every screen has spoken sound
(over 2500 voice files). Program has been used for over three years without sound - and now CD/ROM sound is available!!!
Hear, see, and learn favorite Jewish "chants" and blessings
Sh'ma Yisrael, Adon Olam, Kidush, Motzi, Shma V'Ahavta, Aaronic Benediction
New Home-Schooling Features
1) Suggested Lesson Plans (120 hours of training materials)
2) Individualized Student Tracking and Progress Reports
For any Hebrew word on the screen, click the left mouse button to get the English transliteration (pronunciation) and the right mouse button for the English translation (meaning). This feature not available in any printed book! Saves lots of time flipping back and forth through pages and to the Hebrew dictionary.
24 Lessons that each teach approximately 15 new Vocabulary words each (i.e. the most commonly used 400 words in the Bible). 
Each lesson includes approximately 20 "verse fragments" from the Bible so that you can see how the new vocabulary words are actually used in scripture.  This alone accounts for about 200 pages of the program.  Each "verse fragment" was carefully selected because of its easy vocabulary.   Completing these lessons will give a student a good feel for Biblical Hebrew.
Many exercises that drill you on each new letter.  Has over 500 online screen pages of information and interactive exercises.   Includes exercises and visuals to help you distinguish look-alike letters Practical progressive teaching method, starts slow
PERFECT FOR BEGINNERS AND CHILDREN or college students - NO prior knowledge of Hebrew required !
Includes discussion of the meaning and symbolism of each Hebrew letter.
Teaches in detail what many Hebrew courses gloss over on one or two pages.  Perfect supplement for other Hebrew courses and books. 
After the last reading lesson, you will be able to read (pronounce) any of the included sample readings - portions from Torah (Books of Moses) and Psalms
Includes commonly used "synagogue words" and holiday phrases
Now includes simple grammar section!