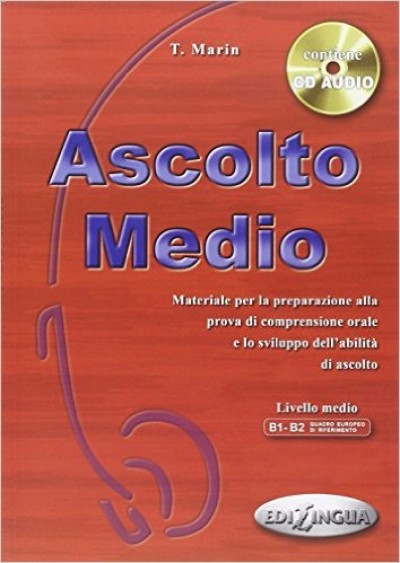 Ascolto medio. Con CD Pacchetto di prodotti
Buy now for

$34.95


We ship worldwide. Bulk and academic discounts available -- contact us for pricing.


Ships in approximately 10 business days.




Ascolto medio. Con CD Pacchetto di prodotti

Through the use of authentic material from radio and television broadcasts featuring over 40 different voices, this course is perfect to help your students develop listening and speaking skills in Italian. Every audio text is accompanied by exercises to test and improve the students' comprehension.




Product ID: 505100 ISBN-13: 9789607706430

Category: Classroom/Schools
Supporting language: Italian
Platforms/media types: Audio CD
Specifications: Paperback, 6-1/2"x9", 60 page Book with Audio CD.

Ascolto Medio mira allo sviluppo dell'abilità di ascolto e alla preparazione della prova di comprensione orale degli esami di certificazione delle Università italiane. quali Celi (2 e 3), Cils (Uno-B1 e Due-B2), Plida (B1 e B2) o altri simili. L'uso di brani autentici e la cassetta a suo corredo ne rappresentano le novità. Ognuno dei 24 testi è corredato da esercitazioni di tip scelta multipla, completamento, vero/falso. I brani autentici sono stati accuratamente selezionati da programmi televisivi e radiofonici trasmessi da emittenti italiane, mentre alcuni di quelli introduttivi sono stati registrati in studio. Essi coprono un'ampia gamma di argomenti: dialoghi telefonici, ricette, favole, interventi, fatti di cronaca, interviste, servizi sulla cultura ecc. Così lo studente ha la possibilità di entrare in contatto non solo con la lingua viva, ma anche con la realtà italiana. Inoltre, le numerose e differenti voci dei brani orali gli consentono di migliorare l'accento, la pronuncia e l'intonazione. Ascolto Medio è accompagnato da un CD audio (60 minuti) per lo studente e dal libro con le trascrizioni dei testi e le chiavi degli esercizi. Tutti gli esercizi in versione interattiva, così come altre risorse e strumenti, sono presenti su i-d-e-e, la prima piattaforma didattica per studenti e insegnanti.