Most Popular Welsh Language Product Types
All Welsh language product types
---
Welsh, the language of Wales, is spoken by about 600,000 people, or less than 25 percent of the Welsh population. Like Gaelic, spoken in Ireland and parts of Scotland, it is one of the Celtic languages, which constitute one of the many branches of the Indo-European family. Celtic tribes entered Britain sometime after the 5th century B.C. The Anglo-Saxon invasions many centuries later drove the Welsh into the west, where they retained their Celtic speech and remained a distinctive people.

The Welsh call their country Cymru and their language Cymraeg. The alphabet lacks the letters j, k, q, x, and z, while a number of other consonants are pronounced quite differently from the English. The letter w is a vowel, pronounced u as in "put," thus giving rise to such words as gwr (man) and bwyd (food). Ch is pronounced as in German (e.g., chwaer-sister). The letter f is pronounced v (nef-heaven), the f sound rendered by ff (ceffyl-horse). Two special Welsh letters are the dd, pronounced as a voiced th (dydd-day), and 11, pronounced approximately thl. The latter appears at the beginning of many Welsh city names such as Llandudno, Llangollen, and Llanfyllin. Welsh towns bear some of the most picturesque names of any in the world. A few examples are Betws-y-Coed, Penrhyndeudraeth, and Pent-bont-rhyd-y-beddau.

Welsh is spoken/used in the following countries:
United Kingdom, Wales.
Language Family
Family: Indo-European
Subgroup: Celtic
Branch: Brythonic

Copyright © Kenneth Katzner, The Languages of the World, Published by Routledge.
---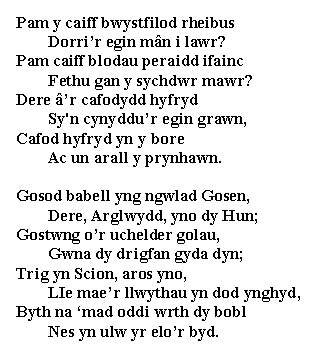 ---
Why are ravenous beasts allowed
To trample the tender grapes?
Why must sweet flowers
Fail in the great drought?
Send the healing showers
To increase the vine shoots,
A healing shower of the first rain
And another of the latter rain.


Pitch thy tent in the land of Goshen,
Come thyself, Lord, to abide there,


Descend from the bright heights,
Make thy dwelling among men.
Abide in Zion, remain there,
Whither the tribes go up,
Do not ever abandon thy people
Even to the annihilation of the world.

—WILLIAM WILLIAMS PANTYCELYN