Most Popular Tamil Language Product Types
All Tamil language product types
---
Tamil is one of the major languages of southern India. It is spoken principally in the state of Tamil Nadu (formerly Madras), located on the eastern coast and extending down to the southernmost tip of the Indian subcontinent. There are about 60 million Tamil speakers in India. In addition it is spoken by about 4 million people in northeastern Sri Lanka, about one million in Malaysia, and in smaller colonies in Singapore, Fiji, Mauritius, Trinidad, Guyana, Zanzibar, and parts of East Africa.

Tamil is the oldest and most richly developed of the Dravidian languages. The origin of the alphabet is uncertain, though it is believed to be about 1,500 years old. Curry and mulligatawny are two Tamil words that have entered the English language. The latter is a combina-tion of the Tamil words for "pepper" and "water."

Tamil is spoken/used in the following countries:
Fiji (Republic of), Guyana, India, Malaysia, Mauritius, Singapore, Sri Lanka (Ceylon), Trinidad & Tobago, Zanzibar & Pemba (Tanganyika).
Language Family
Family: Dravidian

Copyright © Kenneth Katzner, The Languages of the World, Published by Routledge.
---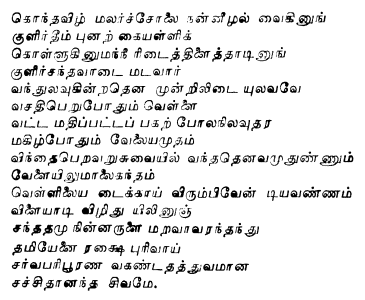 ---
Whether in grateful shade I dwell of groves
Rich in clustered blooms, or cool sweet draughts
I quaft from limpid stream,
Or in its waters bathe and sport,
Or, fanned by fragrant breezes fresh.
That like maidens in the courtyard play,
I revel in the full moon's day-like splendor.
Or in dainties I feast where in ocean's ambrosia
Haply hath wondrous entered, or in garlands,
Perfumes, betel I joy, or rest in sleep,
Thy grace may I never forget! This boon
To me grant and from the world guard me,
O Sivam, all pervading, infinite, true,
Thou art the one Reality, Knowledge, Pure and Bliss!

SAINT THAYUMANAVAR, God and the World