Most Popular Sindhi Language Product Types
All Sindhi language product types
---
Sindhi is spoken in Pakistan and is also one of the constitutional languages of India. It is spoken by about 15 million people in the province of Sind, southern Pakistan, and by about 2½ million more across the border in India. The largest Sindhi-speaking city is Hyderabad, Pakistan.

Sindhi is an Indo-European language, related to Urdu and the languages of northern India. In Pakistan it is written in the Arabic script with several additional letters to accommodate special sounds.

Sindhi is spoken/used in the following countries:
India, Pakistan.
Language Family
Family: Indo-European
Subgroup: Indo-Iranian
Branch: Indic

Copyright © Kenneth Katzner, The Languages of the World, Published by Routledge.
---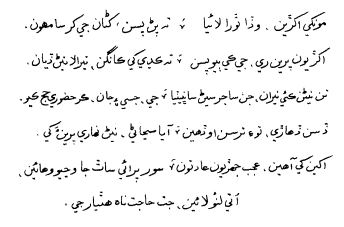 ---
These paltry eyes of mine
Have brought me favor's grace.
If evil but before them be,
They see Love in its place.
If paltry eyes of mine
Did aught but Love disclose
I'd pluck them out to cast
As morsels for the crows.
Mine eyes have made a feast
Where kin and friends engage.
It is as if life, body, soul
Had gone on pilgrimage.
All day they look and yet
They halt out there to see.
They saw and recognized Love
And have returned to me.
Strange habits have mine eyes
To trade with others' pain.
Love's conquest they have made
Where weapon brings no gain.

—SHAH ABDUL LATIF BHITAI, Risalo