Most Popular Navajo Language Product Types
All Navajo language product types
---
The Navajo are the largest Indian tribe in the United States. They number about 150,000, the majority living on the vast reservations in New Mexico, Arizona, and Utah. They are an offshoot of the Apache, who are believed to have migrated from Canada to the American Southwest about a thousand years ago. The Navajo language, like the Apache, is of the Athapascan family. The Navajo call themselves Diné—"The People."

Navajo is spoken/used in United States of America

Language Family
Family: North American Indian
Subgroup: Athapascan

Copyright © Kenneth Katzner, The Languages of the World, Published by Routledge.
---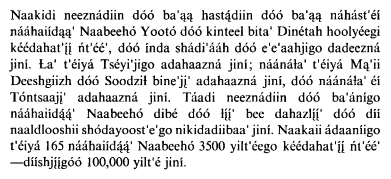 ---
Until about 268 years ago the Navajo lived in an area between Santa Fe and Aztec called Dinetah, and after that time they began to move southward and westward. Some moved toward the Canyon de Chelly; others migrated toward Jemez and to Mount Taylor, and still others to Tunicha. More than 300 years ago the Navajo acquired sheep and horses and began to raid the settle-ments. According to Spanish accounts 165 years ago the Navajo population was about 3,500—today there are about 125,000.