All Nakhi language product types
---
Nakhi is spoken in Yunnan Province, southern China, by ahout 230,000 people. Called Moso by the Chinese, it is of the Tibeto--Burman family, and its script represents one of the few pictographic systems still in use in the 20th century.

Nakhi is spoken/used in China

Language Family
Family: Sino-Tibetan
Subgroup: Tibeto-Burman

Copyright © Kenneth Katzner, The Languages of the World, Published by Routledge.
---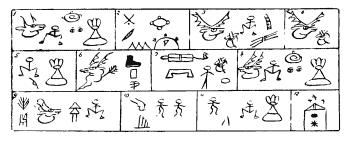 ---
Box 1: The yak he dances there it is the custom
Box 2: on La-ts'ü-höddü gko
Box 3: the stag said he would like to dance there.
Box 4: For the stag
Box 5: to dance is not the custom,
Box 6: the elkskin shoes with the white front
Box 7: the sons of bitterness wear;
Box 8: the stag he dances there it is the custom.
Box 9: Where the pines are the young deer wanted to dance,
Box 10: the cloven-hoofed they sway in rhythm,
Box 11: they sway and dance as is the custom.
Box 12: All the people of the village.

Excerpt from Mun Ndzer Ä Lä Dzhu, or Song of the Dead, Relating the Origin of Bitterness