Most Popular Mohawk Language Product Types
All Mohawk language product types
---
The Mohawk Indians lived originally in the Mohawk Valley of New York State, between the modern cities of Schenectady and Utica. The eastemmost of the Five Nations that formed the League of the Iroquois, they sided with the British during the Revolutionary War and were forced after the Revolution to flee to Canada. Today the largest concentration of Mohawks (about 1,500) is on the St. Regis Indian Reservation in St. Regis, New York, facing the St. Lawrence River and bordering Canada. A few hundred more live in various parts of Ontario and some are to be found in Quebec. The Mohawk language is of the Iroquoian family.

Mohawk is spoken/used in the following countries:
Canada, United States of America.
Language Family
Family: North American Indian
Subgroup: Iroquoian

Copyright © Kenneth Katzner, The Languages of the World, Published by Routledge.
---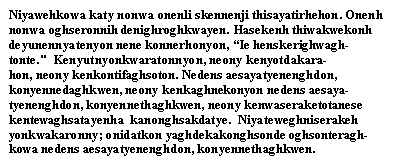 ---
Great thanks now, therefore, that you have safely arrived. Now, then, let us smoke the pipe together. Because all around are hostile agencies which are each thinking, "I will frustrate their purpose. Here thorny ways, and here falling trees, and here wild beasts lying in ambush. Either by these you might have perished, my offspring, or, here by floods you might have been destroyed, my offspring, or by the uplifted hatchet in the dark outside the house. Every day these are wasting us; or deadly invisible disease might have destroyed you, my offspring.

The Iroquois Book of Rites