Most Popular Malayalam Language Product Types
All Malayalam language product types
---
Malayalam, with the stress on the third syllable, is spoken on the Malabar (western) coast of extreme southern India, chiefly in the state of Kerala. It is one of the Dravidian languages and is most closely related to Tamil. There are about 35 million speakers. The alphabet, which dates from the 8th or 9th century, also developed out of the script called Grantha. The English words teak, copra, and atoll all come from Malayalam.

Malayalam is spoken/used in India

Language Family
Family: Dravidian

Copyright © Kenneth Katzner, The Languages of the World, Published by Routledge.
---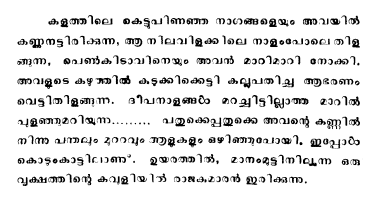 ---
Appunni looked now at the interlocked snakes in the "square," now at the girl sitting amidst the lamps with her eyes fixed on the snakes, herself golden like the flame of the lamps. A jewel set with stones flashed and gleamed in the hollow of her neck. The flames turned and twisted like snakes on her bare breasts. Slowly, very slowly, the pandal and the people and the courtyard vanished from his sight. He was now in a thick forest. The prince was sitting on a tall tree whose top touched the heavens.

M. T. VASUDEVAN NAIR, Nalukettu