Most Popular Lao Language Product Types
All Lao language product types
---
Lao is the official language of Laos. Like Thai, to which it is closely related, it is a member of the Tai subgroup of the Sino-Tibetan family of languages. Lao is spoken by about 3 million people. Its script was adopted from that of the Mons, the earliest civilized people of Burma. It contains forty-five consonants, but only about half of these signs represent pure consonantal sounds, the others being merely tonal indications.

Lao is spoken/used in Laos

Language Family
Family: Sino-Tibetan
Subgroup: Tai

Copyright © Kenneth Katzner, The Languages of the World, Published by Routledge.
---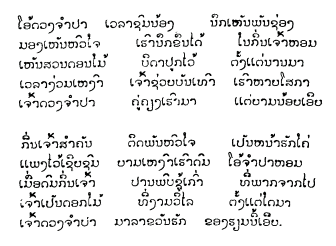 ---
Oh Champa! When I sense your fragrance, a thousand memories stir in my heart.
Your sweet scent reminds me of the garden of my father.
And I recall all my dreams, all my melancholy, and all my child-hood joys.
Champa, you are for me the flower of my childhood.

Your perfume awakens in me delightful memories.
When I inhale your fragrance I seem to recall in my heart
My beloved whom I have lost.
Champa, the most beautiful flower of Laos, you are for me the flower of my love.

Chantpa, Flower of Laos