Most Popular Kanarese Language Product Types
All Kanarese language product types
---
Kanarese, also known as Kannada, is spoken in southwestern India, principally in the state of Karnataka (formerly Mysore). A member of the Dravidian family of languages, it is spoken by about 35 million people. Ihe Kanarese alphabet is similar to that used in Telugu, but the language itself is more closely related to Tamil and Malayalam.

Kanarese is spoken/used in India

Language Family
Family: Dravidian

Copyright © Kenneth Katzner, The Languages of the World, Published by Routledge.
---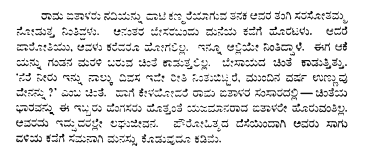 ---
As Rama Aytala crossed the river and disappeared from view, his sister Sarasotamma stood there watching him. Then she felt tired and started out for home. But Paroti did not move, though she called to her. She still stood there. She was not troubled now by the thought of her husband's return. Only the thought of tilling the land bothered her. She thought, "If the floodwaters remain at their present level for many more days, what will we eat next year?" Such things mattered little to the master Rama Aytala, who could not bear the burden of thoughts and worries as these two women did. His life was easy, all things considered. Owing to his priestly duties, he gave little thought to matters of sowing and tilling.

K. S. KARANTA, Back to the Soil