Most Popular Gujarati Language Product Types
All Gujarati language product types
---
Gujarati is spoken principally in the state of Gujarat, westernmost India, bordering Pakistan and the Arabian Sea. Like the other languages of the northern two-thirds of India, it is descended from Sanskrit, and is thus a member of the Indo-European family. Gujarati is written in an alphabet similar to that used by Sanskrit and Hindi, but without the continuous horizontal line running along the top. With about 45 million speakers, it is one of the official provincial languages recognized by the Indian constitution.

Gujarati is spoken/used in the following countries:
India, United States of America.
Language Family
Family: Indo-European
Subgroup: Indo-Iranian
Branch: Indic

Copyright © Kenneth Katzner, The Languages of the World, Published by Routledge.
---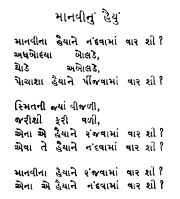 ---
THE HUMAN HEART

How little it takes to break the human heart!
A word half spoken;
A word unspoken;
How little it takes to bleed the heart!

The lightning flash of a teeny smile;
How little it takes to please that heart!
And how little it takes to break it!

How little it takes to please the human heart!
And how little it takes to break it!

UMASflANKAR JOSHI