All Chukchi language product types
---
Chukchi is spoken in northeastemmost Siberia, principally in the Chukchi National District, whose capital is Anadyr. With only 12,000 speakers it is nonetheless the most important member of the Paleo-Asiatic family of languages.

*** A curious feature of the language is that the letter k is pronounced k by men but ts by women, while the combination rk is pronounced rk by men but tsts by women. Thus the Chukchi word for "walrus" is pronounced kyrky by men but tsytstsy by women.

Chukchi is spoken/used in Russia

Language Family
Family: Paleo-Asiatic

Copyright © Kenneth Katzner, The Languages of the World, Published by Routledge.
---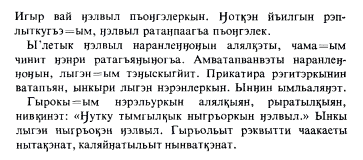 ---
At the present time the herd is searching for mushrooms. When the month is over the herd will stop searching for mushrooms.
When the snow begins to fall the herd will be driven to places where there is no longer any snow, or it may head there on its own. They will be driven to places with an abundance of Iceland moss, in general to nice places. The leader will find places with Iceland moss and will drive them there. Thus it shall be all winter.
In the spring they will seek places free from snow, flat country, saying, "Here, where there is no wind, the herd can bear their young." It is here that they bear their young. Those who give birth are kept in one place, those who run away are brought back.