Most Popular Blackfoot Language Product Types
All Blackfoot language product types
---
The Blackfeet Indians live in the Canadian province of Alberta, as well as in the state of Montana. In Alberta they number about 4,000, living on three reservations in the southeastern part of the province. In Montana they number about 1,000, most of them living on the reservation near the town of Browning, just east of Glacier National Park. The Blackfoot language is of the Algonkian family.

Blackfoot is spoken/used in the following countries:
Canada, United States of America.
Language Family
Family: American Indian
Subgroup: Algonkian

Copyright © Kenneth Katzner, The Languages of the World, Published by Routledge.
---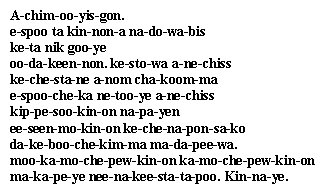 ---
(amí) maanístsoohpi' kitomátskahtakssoaaistsi, (ki) ánniayi áakanísttsooyi amístsi kítssko'tsiihpoaawaistsi. "The measure you give will be the measure you get back." [from Luke 6:38, in the Blackfoot language]